Google Maps' New "Follow" Button Will Revolutionize GMB Posts
Google just announced a feature that should come as no surprise to anyone who wondered how they would fill the void left by Google+.  In an announcement on their blog on October 24th, Google detailed a "Follow" button that will appear on business listings in the Google Maps app on Android (there's been no word on implementing it for iOS yet, but I'd be surprised if it didn't make the transition soon). Google currently says the feature is available "where available, with more countries soon", which is, as ever, super-helpful.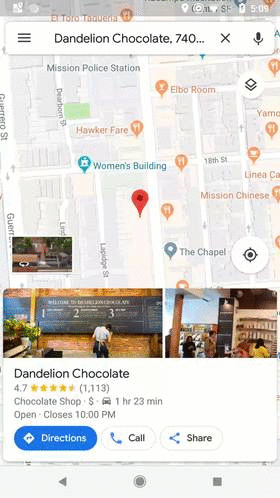 Image courtesy of Google
What this means in practice is that when a Google Maps user 'follows' a business they're a fan of, or are considering visiting, they'll see that business' Google My Business Posts in the 'For You' tab of the Google Maps app. (I'm a little worried Google is listening to us through our office Google Home, as we were literally discussing the wide applications of a feature like this last week!)
This Revolutionizes Google My Business Posts
Whereas beforehand a consumer would have to seek out or browse your business to see your GMB Posts in the Knowledge Panel or Google Maps listing, they can now see all Posts from followed businesses in one place.
The 'For You' tab is otherwise primarily used to recommend businesses based on your consumer and search history, but this new wrinkle gives a lot more agency to businesses, and the power to get into the feeds of users with offers, news, and events in the form of GMB Posts.
What's more, the Google Maps app on Android has a 'Personal Places' notification setting. Although this hasn't been tested, it would surprise me if this setting wasn't used to notify users of new Posts from the businesses they follow. After all, it's not really 'following' if you have to go hunt for and scroll through the news yourself, is it?
In light of all this, I'd strongly recommend revisiting your GMB Posts and considering how they'll look in smartphone notifications and alongside competitors in the 'For You' tab. More than ever before, it's important to make sure you're standing out from the pack in GMB Posts.
What Does This Mean for Local Businesses?
Now, what follows is a lot of personal opinion and conjecture, but the timing of this release (shortly after the announcement of the closure of Google+) combined with a renewed focus on local search in general, suggests to me that this is Google's play for the business social media space.
GMB Posts already work in a similar way to Facebook and Twitter posts, except the potential boon for local businesses (particularly if I'm right about the notifications) is that they won't be at the behest of an arcane algorithm stripping away reach.
Trust in Facebook is waning, and business owners are frustrated with its replacement of their hard-earned reviews with recommendations, so it's the perfect time for Google to go even further with something like this.