How To Become a Google Guaranteed Business on Local Service Ads
How to become a Google guaranteed business on local service ads. In a world where trust in advertising continues to erode, consumers are looking at a business' reputation as the main criteria for who to hire. This is particularly true for customers who have an active need and are looking to hire somebody immediately, such as for a home service job.  These people are experiencing what Google calls a micro-moment, where they are ready to hire right away.
Google Local Service Ads (formerly Home Service Ads) is a platform with significant changes in how contractors and home service providers will be ranked and convert via Google search.  Here's what you need to know.
If you're standing ankle deep in toilet water and need a plumber now, you don't want to have to research plumbers and mull the decision over.  You want to see the top options and get somebody over ASAP.
Adding the criteria of reputation, professionalism, and quality is at the core of Google's new platform, Local Service Ads.
How Do Google Local Service Ads Work?
Google Local Service Ads are managed through Google's paid search platform that includes Adwords and Adwords Express, but with several major differences.
The starting point for users is the same.  They need a plumber, handyman, or painter so so they go to Google and conduct a search.  But the top of the search results page has a new section.
For example, a search for "plumbers in LA" now shows this: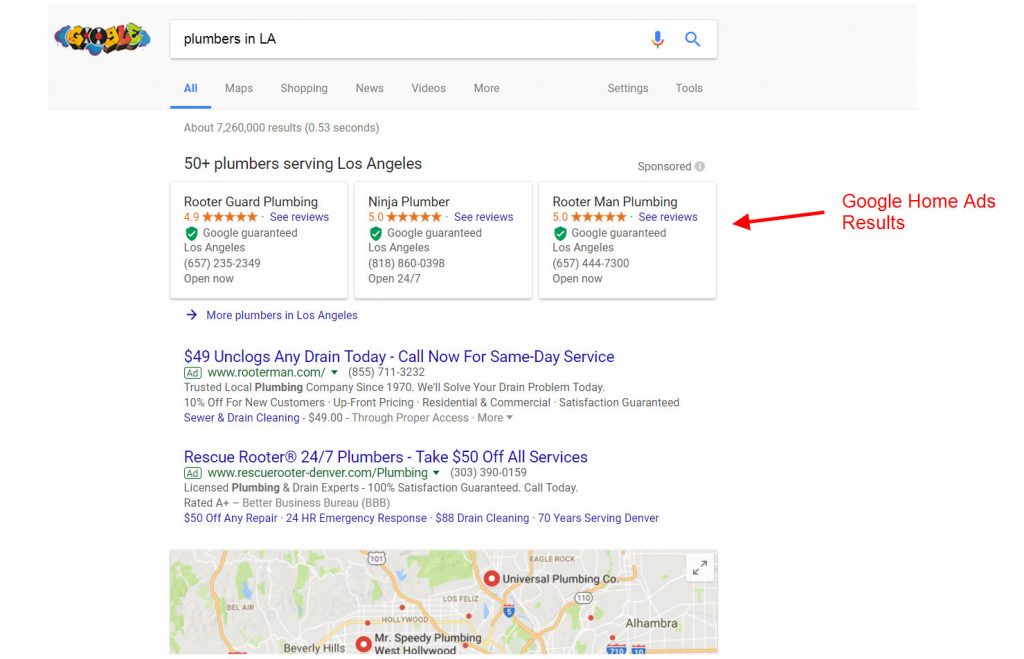 The places listings look like this: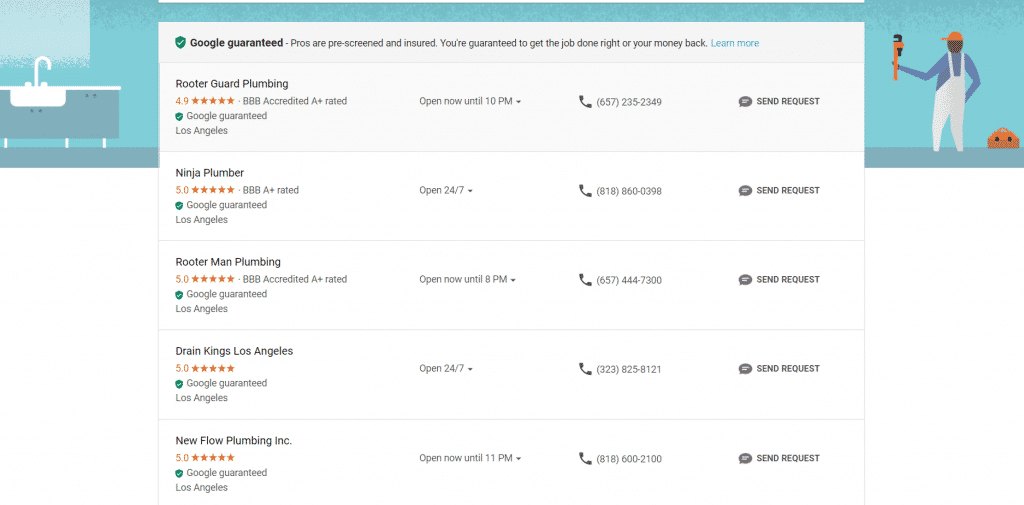 Local Service Ads are a refinement designed to better meet the needs of users, particularly when they search on mobile devices.  With these ads:
Rankings are determined by review profiles, proximity, reputation factors like BBB accreditation, and direct input from customers.  The idea is to give the highest ranking to nearby businesses with the best reputations for quality, service, and professionalism.  This is a shift from previous PPC models where a business could bid their way to the top of results, making it necessary for users to research to find the "best" provider.
The point of conversion is on the search listings page.  Users can contact businesses without having to navigate to their websites.  This streamlines the process, particularly for mobile users.
Payment is a pay-per-lead basis, which makes this service more similar to Home Advisor or Angie's List (this year Home Advisor acquired Angie's List, possibly in a move to help them compete with Google Home Service Ads).
Google Local Service Ads are rolling out in beta on an ongoing basis.  They are out of beta in areas of California.
Current cities where it is out of beta:
Los Angeles
San Diego
Sacramento
Stockton
San Francisco Bay area
LSA ads include the following verticals:
Plumber
House Cleaner
Locksmith
Handyman
Contractor
Electrician
General Contractor
Painter
Garage Door services
Heating, Ventilation and Air Conditioning (HVAC)
Roadside assistance service
Auto glass service
What Does My Business Need to Do?
For local home service businesses, this platform represents a fundamental shift in your relationship with Google. How to become a Google guaranteed business on local service Ads
To start with, you and any employees, contractors (including subcontractors), or other workers who provide services in customers' homes, workplaces, or other properties must complete third-party background checks before you may participate in the home service ads program.  If you pass, you must also maintain good standing with the policies of the background check.
You also have to meet all relevant regulatory and insurance requirements related to your services.  Oversight may include looking into your trade licenses as well as insurance and civil litigation history.
Once you are on the platform, the biggest factor influencing your success will be your reviews and reputation.  In a truly striking change from just providing search results, Google is offering up to $2,000 in claims for customers who are dissatisfied with work they hired through the platform.
This shows how directly Google is willing to get involved to ensure LSA service providers are legitimate and professional.  At least at this time, this looks to be a fundamental shift from ranking businesses based on keywords associated with auction bids and content relevancy.
Whether or not your business is an area of availability for these ads, the first step you need to take is to shore up your Google My Business reviews.  Clearly having a larger number of positive, 5-star reviews is going to be essential to gaining visibility on this platform.
Also, you'll want to work on your sales and bidding process.  Google is likely moving in this direction based on customer rather than business preference.  In a pay-per-lead structure, you need to be effective at contacting leads early and providing fast, fair estimates.
To Google's credit, LSA create a direct lead-to-business relationship, meaning that a lead is actually someone who contacts you by phone call or messenger.  This differs from other pay-per-lead services where you pay just to get the leads contact info and are in competition with other businesses to contact the lead first.
If you have a strong online reputation and the Google Guaranteed badge, leads who do reach out to you are more likely to be pre-sold because they're assured Google is showing them a quality provider.
When you get started, be sure to use the scheduling feature so your ads only display when you are available to take phone calls.  With local lead generation working off micro-moments, you have to make contact with the lead immediately, or you risk losing them.
The advantages center on streamlining the process.   Users in micro-moments will be able to find and contact quality providers on a single interface, making the process quicker on their mobile device.  Businesses will rely mainly on their good standing with customers, with high-quality work becoming a serious marketing advantage.
Pay-per-lead versus pay-per-click has a lot of ROI appeal, but it also calls for high level of responsiveness.  Hot leads age like mayonnaise in the sun, so you have to be ready to take calls when your ads are running.
Google is making these moves because a simple list of providers ranked based on the quality of their service history is what they believe users want.